Category Archives:
Triathlete
After every hard training session…blend together with ice. So delish. @Herbalife24 #recovery #rebuild #herbalife24 pic.twitter.com/ZegvUVswTW

— Heather Jackson (@hjacksonracing) September 24, 2015
Heather Jackson Career highlights
Ironman Coeur d'Alene Champion (2015)
3-Time Wildflower Long Course Champion and Course Record Holder (2012, 2013, 2014)
2-Time Ironman 70.3 Oceanside Champion (2013, 2015)
Escape from Alcatraz Champion (2013)
Ironman 70.3 Princeton Champion (2014)
Runner Up at Ironman 70.3 World Championships (2013
Heather Jackson is a Team Herbalife athlete. Heather focuses on the half ironman and ironman distance triathlons, she also likes to jump in an Olympic or Sprint distance triathlons every now and then. Recently 5th in the Ironman World Championships in Kona.
Rebuild Endurance is a recovery carb-protein drink for endurance sports.
For use after aerobic exercise
Contains 36g specially selected carbohydrate and 10g high quality dairy protein in each serving
Protein contributes to the growth and maintenance of muscle mass
Provides vitamins B1, B2, C and E, along with iron
No artificial colours, flavours or sweeteners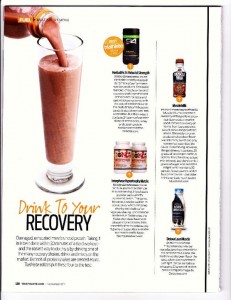 In the  Triathlete Magazine  Sept. 2011 article "Drink to your Recovery" the Herbalife 24 product Rebuild Strength beat out the competitors to win "Best" recovery drink!   Great science behind it!
Herbalife24 consists of seven products that allow athletes to customize their nutrition program based on their specific sport, day-to-day needs, and training demands.   Each product is tested for banned substances (anti-doping testing) by an independent third-party laboratory (BSCG.org) assuring athletes that what they put into their bodies is exactly what is listed on the label.
Herbalife 24 research is based on the latest proven science and formulated by Herbalife scientists, some of whom are elite athletes in their own right